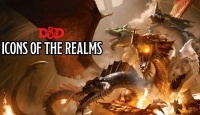 WizKids will release two iconic
Dungeons & Dragons
dragons,
Tiamat
and
Bahamut,
as part of its
D&D Icons of the Realms
fantasy miniatures line (see "
'D&D Fantasy Miniatures'
") on November 12. Wizkids will also release
Base and Peg Sets
and
Template Sets
for
D&D Attack Wing
on October 1st.
The
D&D Icons of the Realms Tiamat Premium Fantasy Miniature Figure
is a model of the infamous evil queen of the dragons, who is also the main adversary of Wizards of the Coast's
Tyranny of Dragons
Organized Play campaign tied to the launch of the new
D&D RPG
edition this summer (see "
Exclusive Interview: 'D&D's' Liz Schuh on the New Edition Launch
"). The
Bahamut
dragon figure is modeled on the iconic king of all good dragons.
Both pre-painted figures will be several inches tall, towering over other
D&D Icons of the Realms
figures. MSRP is $59.99 on both models.
The solicitation for
Tiamat
stated that the dragon queen figure will also appear in the
D&D: Attack Wing
line, as part of the planned
Tyranny of Dragons
Story Line Organized Play program, as a prize that comes with game play accessories. Details on that program have not been released.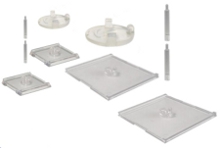 With anticipation high for the October launch of the
D&D Attack Wing
combat game (see "
Details and Pics for First 'Attack Wing D&D'
"), WizKids has added information on two accessory packs to the release schedule. Both the D
&D Attack Wing Base and Peg Set
and the
D&D Attack Wing Template Sets
will release the same day as the
Starters
and
Wave One
expansions.
The
Base and Peg Set
s come in six colors, Red, Yellow, Green, Blue, Black and Purple, which are a good way to differentiate which figures belong to each player when using identical models for combat. Each set will include 2 large bases, 6 large pegs, 2 large connectors, 6 small bases, 18 small pegs, and 6 small connectors. MSRP is $19.99.
The
D&D Attack Wing Template Sets
will include several translucent movement templates with laser-etched information for plotting miniatures movement on the field of battle with precision and ease. Each set will include 1 range ruler, 3 turn movement templates, 4 bank movement templates, and 6 straight movement templates. MSRP is $24.99.