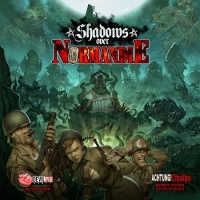 French company Devil Pig Games will release a new board game that combines their World War II board game
Heroes of Normandie
with the eldritch horror of Modiphius Entertainment's
Achtung! Cthulhu
RPG.
Shadows over Normandie
is currently seeking funding on Kickstarter.
Shadows over Normandie
is a standalone game that features characters and forces from the
Achtung! Cthulhu
world. The story follows the Lost Platoon, a few weeks after D-Day, somewhere deep in the Normandie countryside. The platoon is led by Sgt. Carter of the U.S Rangers, with help from the French resistance agent Ariane Dubois, who must stop the Deep Ones and the Nazi Cult of the Black Sun before they summon Cthulhu and unleash the Great Old One on the Allied forces.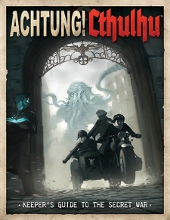 Chris Birch, of Modiphius Entertainment, explained how the English and French game companies came together. "We first hooked up with the Devil Pig's Yan & Clem last spring when we both Kickstarted our respective games. We both got on well (as us Londoners and Parisians do when there's no one called Napoleon organizing the party) and a tie-up with our world seemed like a match made in heaven so they launched the cross-over expansion
Shadows over Normandie.
Since then it has become a standalone boxed game in its own right and this latest Kickstarter is to upgrade the contents and add in a bucket of new content."
The
Heroes of Normandie
game is distributed in the US by Iello, and according to Devil Pig, has sold 5,000 copies worldwide. The European-based Kickstarter was funded in the first hour, and is now approaching £100,000.00 in funding with 6 days to go. Backer fulfillment is planned for December 2014, with trade release to follow in Q1 2015. The tentative US MSRP will be $80.00 – $88.00. Birch has confirmed the game will also be distributed in the U.S. by Iello.