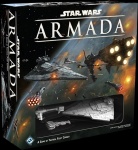 Fantasy Flight Games will release
Star Wars: Armada
, a tactical miniatures game for two players, in early 2015.
Each player takes the role of a fleet admiral for either the Imperial Navy or Rebel Alliance. Players assemble their fleet and maneuver ships across the battlefield. They must coordinate both the massive ships and squadrons of starfighters, issuing commands, directing the fleet movement, sustaining defense, and coordinating fire for the battle objective in this galactic civil war.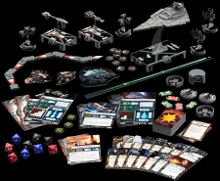 The Core Set box contains ten unpainted squadrons, three pre-painted ship miniatures (Victory-class Star Destroyer, Nebulon-B frigate, CR90 Corellian corvette), more than 130 cards and tokens, an articulated maneuver tool, a range ruler, six command dials, nine attack dice and rules.
The game is for two players, ages 14 and up, and plays in 2 hours. MSRP is $99.95.