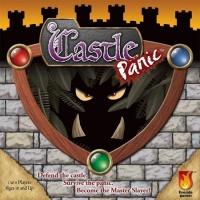 During last week's Gen Con fair, ICv2 spoke with Justin De Witt, CEO of Fireside Games and creator of
Castle Panic,
about the game's next expansion,
The Dark Titan
. Fireside plans to release the expansion sometime in 2015, targeting a spring release.
"It is a smaller expansion than
Wizard's Tower
," De Witt explained. "It's going to bring one new giant villain to the game, along with several smaller accomplices, and some new things you get to do: new cards, new tokens that are on the board that you get to interact with in a different way."
The Dark Titan
is designed to adjust the difficulty of the game to a level between the base game and the earlier
Wizard's Tower
expansion. It can be used with the base game or combined with
Wizard's Tower
. Tentative MSRP is $14.95.
A
Munchkin
-themed version of
Castle Panic
, called
Munchkin Panic
, was on display at the Fireside Games booth at Gen Con, and is expected to release later this year (see "
Gen Con 2014 Photos--Part 1
" and "
Two New 'Munchkin' Hybrid Crossover Games
").