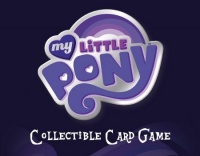 Enterplay will launch a new organized play website for its
My Little Pony CCG
this November, CEO Dean Irwin told ICv2 at New York Comic Con. "On November 1, we're going to be launching the OP software," he said. The website will support organized play, with player rankings at three different geographic levels, and according to two different ranking systems.
The organized play website will include a Google Maps function so players can see all the events happening in their area, and will allow them to register for events through the site. Judges can be qualified through the system as well. It will include learn-to-play tools for new players, and a DIY function for stores to set up informal events or for players to have home events.
Players will receive "pony points" as a reward system on the site, but points will be given for participation as well as earned for placement. "A lot of our fans are not really competitive, they just like to play, to be part of the community," Irwin said. "So we want to support that."
In line with that non-competitive aspect, the site will also feature players that are selected randomly. "Additionally it will randomly select a player of the week," Irwin said. "It will also randomly select players occasionally and give us information, so we can send surprises out to some players."
Enterplay also shared information and art for several upcoming
My Little Pony
releases (see "
'MLP' Trading Card, CCG Releases
").