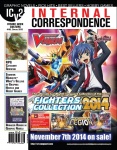 The summer of 2014 was another strong season for hobby game sales, albeit at slower growth rates than 2013's torrid 20% pace, according to the market reports in the recently released
Internal Correspondence
#86. Collectible game sales were solid, with category leader
Magic: The Gathering
doing better after a less-than-stellar spring. Board, non-collectible card, and roleplaying games were the categories most frequently mentioned as pushing summer sales higher.
In collectible games, sales on the
2015 Core Set
for
Magic: The Gathering
were up over last year's set, although the June release,
Conspiracy
, was down from sales on
Modern Masters
in 2013.
Yu-Gi-Oh!
sales were up in the hobby, behind new monsters, solid OP, and a robust secondary market for singles. Adult, lapsed players at college age and above are returning to
Pokemon
, joining growing numbers of kids and driving up sales on the brand.
HeroClix
benefited from good set choices, with sets tied to both the comic and movie versions of
Guardians of the Galaxy
proving to be sales gold for the brand. WizKids'
Dice Masters
was plagued by stock-outs, and
My Little Pony
had long gaps between releases.
Cardfight!! Vanguard
sales were stronger this summer, behind growing OP and an aggressive release schedule, and Bushiroad's #2 game,
Weiss Schwarz
, was doing well behind its
Kill La Kill
release.
In non-collectible miniatures,
Warhammer 40,000
was doing better in the wake of the release of
Seventh Edition
, while the
Star Wars X-Wing
SKUs returned to frequent stock-out status in the summer season, hampering its sales.
Board game sales were also hampered by stock-outs, with five of the top ten games in the category, including
Firefly, Pandemic, Carcassonne, King of Tokyo
and
Betrayal at House on the Hill
, out of stock for at least part of the summer season.
There was a new top dog in the Card and Dice Game category, with
Boss Monster
now in the #1 slot. Other newer games doing well included Cryptozoic Entertainment's
Adventure Time Card Wars
, Upper Deck's
Alien Encounters: Legendary
, and White Wizard's
Star Realms
.
The launch of the new edition of WotC's
Dungeons & Dragons
was like a shot of adrenaline for the RPG category, but although the two
D&D
releases that shipped in the summer season sold well, they were insufficient to knock off
Pathfinder
, which hung on to its #1 slot in the category.
ICv2 published its hobby game bestseller charts in the new issue, covering all five categories.
For the lists of the bestselling Collectible Games in the hobby channel, in the mass channel, and over-all,
click here
.
For the bestselling board games in the hobby channel,
click here
.
For the bestselling card/dice games in the hobby channel,
click here
.
For the bestselling RPGs,
click here
.
For the bestselling non-collectible miniature games,
click here
.
For information on how to get your copy of
Internal Correspondence
#86, see "
ICv2 Releases 'Internal Correspondence' #86
."