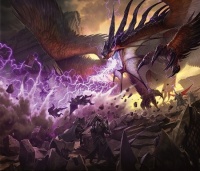 Wizards of the Coast has revealed the title and release details for Dragons of Tarkir, the third set in the Khans of Tarkir block, releasing in March. It also announced the next Duel Decks release, Elspeth vs. Kiora, for February 27.

The 264-card set will be released on March 27, with pre-release events held on March 20. The official Dragons of Tarkir Game Day is set for April 18, and Magic Online release of Dragons of Tarkir is slated for April 6.

Dragons of Tarkir cards will be available in Booster Packs, Intro Packs, Fat Packs, and Event Decks. Mark L. Gottlieb led a team including Dan Emmons, Graeme Hopkins, Colin Kawakami, Mark Rosewater, and Sam Stoddard that was responsible for the initial concept and design of the set, while David Humpherys and Tom LaPille led the final game design and development team that also included Tim Aten, Colin Kawakami, Erik Lauer, Ken Nagle, Sam Stoddard, Gerry Thompson and Matt Tabak.

The Khans of Tarkir will be last three set block that WotC has planned for Magic: The Gathering. In the fall of 2015 WotC is changing the M:TG release format from a three-set block followed by a core release to a two-block, twice a year release (see "Major Changes to 'Magic: The Gathering'").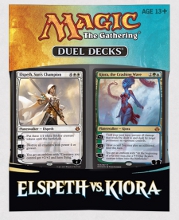 Duel Decks: Elspeth vs. Kiora
will include two ready-to-play decks designed by Chris Millar and Sam Stoddard. While specific card contents and details have not been announced,
Duel Deck
releases normally contain two decks, two deck boxes, two creature tokens, a learn-to-play guide, and a strategy insert. MSRP is $19.99.