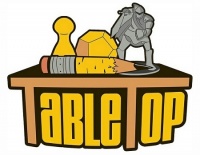 TableTop star Wil Wheaton has released the list of games played for
TableTop Season 3,
which premieres on the Geek and Sundry YouTube channel on Thursday, November 13, on his blog. The list is in the order the games were played, not the order the shows were aired.
The show's third season was crowdfunded via Indiegogo in a campaign last May that raised over $1.4 million (see "
TableTop to Launch RPG Show
"). Since the campaign raised over $1 million, it also funded a planned new show with will feature Wil Wheaton playing a season-long RPG campaign. The games will doubtlessly receive the "TableTop Bump" (see "
The 'TableTop' Bump
") after their corresponding episodes air.
The list of games and their U.S. publishers:
Tokaido
(Passport Game Studio)
Concept
(Asmodee Editions)
Roll For It
(Calliope Games) and
Sushi Go!
(Gamewright)
Forbidden Desert
(Gamewright)
Love Letter
(Alderac) and
Coup
(Indie Boards & Cards)
The Hare & The Tortoise
(Iello) and
Council of Verona
(Crash Games)
Sheriff of Nottingham
(Arcane Wonders)
Stone Age
(Z-Man)
Geek Out!
(Playroom Entertainment)
Five Tribes
(Days of Wonder)
Epic Spell Wars of the Battle Wizards: Duel at Mt. Skullzfyre
(Cryptozoic)
Mice & Mystics
(Plaid Hat Games)
Dread
(The Impossible Dream)
Catan Junior
(Mayfair Games)
Libertalia
(Asmodee Editions)
Kingdom Builder
(Queen Games)
Dead of Winter
(Plaid Hat Games)
Legendary: A Marvel Deck Building Game
(Upper Deck)
TableTop After Dark:
Cards Against Humanity
(Cards Against Humanity)