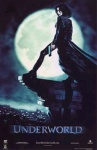 Game publisher White Wolf, Inc. and author Nancy Collins filed suit yesterday in U.S. District court in Atlanta, Georgia charging defendants Sony Pictures, Screen Gems and Lakeshore Entertainment with 17 counts of copyright infringement for the film Underworld, which releases nationwide on September 19. White Wolf alleges that Underworld's characters, theme, and setting are based on White Wolf's award-winning games Vampire: The Masquerade and Werewolf: The Apocalypse. In addition Collins alleges that Underworld's script is based on her 1994 story 'Love Of Monsters,' published by White Wolf and also set in the World of Darkness.
White Wolf and Collins claim that there are more than 60 points of similarity between Underworld and their work. White Wolf President Mike Tinney commented, 'It's infuriating to see Underworld's script riddled with our property,' while Collins added 'Apparently they (Sony et al.) are marketing this as a remake of Romeo and Juliet. What I think they really mean is that it's an on-screen adaptation of my story.'
Set in a world where vampires and werewolves have been feuding for centuries, Underworld stars Kate Beckinsale as a vampire who is known for her prowess in killing werewolves and Scott Speedman, who plays a human trying to extinguish the long-running feud.