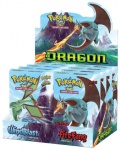 Nintendo National Sales Manager Dean Irwin told ICv2 that more TV advertising will support the release of its upcoming Pokemon-e TCG: EX Dragon Expansion, due out November 24th. Like the advertising that propelled its Ruby and Sapphire release to sell out two printings in a matter of weeks (see 'First Nintendo Pokemon Release Sells Out'), the new round of ads will hit 55% of all boys 6-11 a minimum of four times. The new ad will air for two weekends beginning December 6th, and then run two more weekends beginning right after Christmas.
The Pokemon Tin will also be getting major marketing support, from retailers. Irwin said that 'a major national toy chain' will feature the product on the cover of its upcoming free standing insert, and that there are few major retailers that won't have the tin in their advertising over the holiday season.
With Pokemon sales running ahead of projections for Nintendo, it is now exploring the possibility of other videogame-based CCGs in the future.