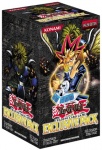 Upper Deck has announced plans for the Yu-Gi-Oh! TCG Exclusive Packs, which will be released in August in conjunction with the release of the Yu-Gi-Oh! feature film (see 'Yu-Gi-Oh! Movie Set for August Release'). Each pack will contain eight cards, five Commons and three Ultra-Rares, all of which will be playable and tournament legal.
This is the only set that will feature monsters and cards featured in the movie. The Exclusive Packs will street on August 8th; the movie opens on August 13th.
The Exclusive Pack will be on sale July 25th at the Yu-Gi-Oh! World Championship at the Anaheim Convention Center.