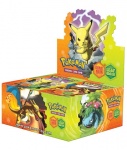 Nintendo is planning over $1 million in television, print, and public relations marketing support for the next Pokemon TCG release, Fire Red and Leaf Green, due out August 30th. According to Nintendo National Sales Manager Dean Irwin, despite printing more of this release than any previous Nintendo Pokemon TCG release, the product is nearly sold out from Nintendo before release.
The new TCG release, in starter decks and booster packs, will be released a week and a half before the release of the Fire Red and Leaf Green Pokemon GBA videogames. The videogames will get $5 million in national TV, radio, and print support from Nintendo.
The heavy marketing support for the TCG, as well as coupling TCG releases with videogame releases (which receive even more advertising muscle), and strong organized play support (on which Nintendo has spent over $1 million in the last year) are some of the reasons for the strong sales of the Pokemon TCG despite its age. Irwin said he believes Pokemon is a very solid #2 in mass (behind only Yu-Gi-Oh!), and #3 over-all (behind Magic in the hobby channel).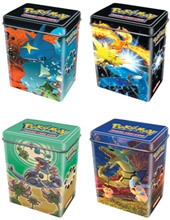 Several other TCG releases are planned before the end of 2004. Next up are the Pokemon Deck Tins, set for release on October 25th. Four different tins, each with one of four random special cards, as well as a sticker set matching the tin art, will each retail for $9.99.
On November 8th, an as-yet-unnamed Pokemon TCG set will be released, the seventh in the EX series. The characters in the set will be based on Fire Red and Leaf Green.
And on November 15th, the EX Battle Stadium will street. Shipped in a box, each Stadium will include two sixty-card decks, as well as two 10-card 'sideboard' decks. Also included will be special rules to help players build strategic decks. MSRP will be $21.99.
Nintendo is looking for new non-videogame products to market in the States. According to Irwin, the search is looking both at games and at other 'impulse collectable items.' They could be based either on Nintendo, or on non-Nintendo intellectual property. Irwin said of the search, 'When the next Beanie Baby happens, we want to be part of it.'