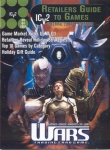 The game market began a comeback in the third quarter after declines in most game categories in the first half of the year, ICv2 reports in the ICv2 Retailer Guide to Games #6, which reaches retailers this week. While there are still no mega-hits with the heat of the early days of Yu-Gi-Oh!, WizKids Clix line, or Pokemon, there are a number of strong product lines selling at solid levels. Store counts are also down, which is eliminating some competition and making the remaining stores healthier.
ICv2 also reports on the Top Ten Collectable Card Game, Miniature Game, Board Game, and Roleplaying Game properties in the issue, as well as providing market information on a host of other properties. Here are the top three properties in each category.
Top Three CCG Properties
1. Yu-Gi-Oh!
2. Magic: The Gathering
3. Versus System
Top Three Miniature Game Properties
1. Warhammer 40k
2. Star Wars Collectable Miniatures Game
3. HeroClix
Top Three Board and Family Game Properties
1. Settlers of Catan/Mayfair Games
2. Carcassonne/Rio Grande Games
3. Axis and Allies/Avalon Hill
Top Three RPG Properties
1. Dungeons and Dragons
2. World of Darkness
3. GURPs
For info on how to get the ICv2 Retailers Guide to Games #6, with more on the game market, holiday merchandising tips, a holiday gift guide, and more, see 'ICv2 Releases Retailers Guide to Games #6.'