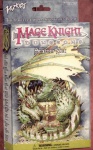 WizKids has revealed more details about Mage Knight Dungeons, a major expansion to the Mage Knight collectible miniatures game (see 'December Product of the Month'), which will help bolster first quarter sales when it ships in January of 2002. While the pre-painted Mage Knight Dungeons figures have combat dials and can be used in conventional Mage Knight campaigns, they also allow players to play a separate Dungeons game, in which the object is to collect the most gold by rescuing treasure chests from hidden vaults in booby-trapped dungeons. The Dungeons Starter Set includes pre-painted treasure chests as well as new Mage Knight figures. Accessories for the Dungeons game including tiles, pits, and lamps (not necessary to play the game, but definite aids in game play) will ship in February. The accessories will not contain any rare elements, but the Dungeons expansion itself introduces a number of new rare and unique figures that will be randomly seeded in the Starter and Booster packs.
Previous Mage Knight expansions involved the addition of cavalry, vehicles and different warring factions, but each new item represented an elaboration on the same game. Mage Knight Dungeons is an interesting departure since this expansion also introduces a new game. The Dungeons game itself has some nice twists on the basic Mage Knight combat game, and it also evokes the treasure-hunting aspects of fantasy adventure role-playing, one of the elements that made Dungeons & Dragons so popular in the first place. The success of any game product ultimately depends on how attractive (or as cynics might say, 'addictive') it is to play. The Mage Knight Dungeons game looks like it is a lot of fun, but we will have to wait until January to see if the legions of Mage Knight fans will embrace the Dungeons expansion and double their Mage Knight fun.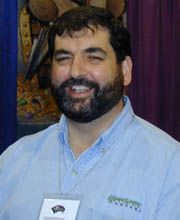 The January release of Mage Knight Dungeons kicks off a very busy 2002 for WizKids.

The wunderkind of game companies has already announced the release of two other major collectible miniature games that are completely distinct from Mage Knight.

The as-yet-unnamed DC Comics CMG (see 'Wizkids To Do DC CMG') will debut in the spring followed by a Battletech CMG (see 'WizKids Announces Battletech CMG') in the summer.

WizKids will have either a major game release or the debut of two or more big figures in every month of 2002.