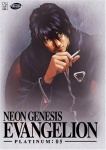 The ultimate angst-ridden teenagers-pilot-giant-robot series of the 1990s, Neon Genesis Evangelion, debuts on the Cartoon Network's Adult Swim on Thursday, October 20th. Actually this isn't the first Cartoon Network appearance for NGE -- the series was part of a 'Giant Robot' week on the network's after school Toonami block several years ago, and soared over the heads of the Toonami audience and earned some of Toonami's lowest ratings ever (the Toonami block moved to Saturday night in 2004, see 'Toonami Gets Saturday Night Fever'). NGE, with its sophisticated overlays of apocalyptic mythology and social criticism, should be a much better fit for Adult Swim. The fact that ADV is putting one of its crown jewels on the Cartoon Network testifies both to the success of the popular Adult Swim block and to the likelihood that ADV's Anime Network will remain a fee-based Video-on-Demand service and not be able to make the difficult and costly transition to a 'free' cable and satellite channel with major U.S. coverage anytime soon.
Exposure on Adult Swim could lead to an expansion of interest in Evangelion extending outside of the hardcore anime fan base. ADV has reissued NGE on a series of 'Platinum Edition' re-releases and there was always plenty of NGE merchandise including figure and robot model kits and resins as well as manga adaptations and apparel. The hardcore anime fans have been exposed to a surfeit of NGE releases, so the Adult Swim showings should provide an object lesson in whether exposure on the late night block can really expand the anime audience. Retailers should be cautious, but should also consider the potential of this extraordinary series to attract and enthrall a new audience.
The Cartoon Network has also announced that it will air new episodes of the hit series Full Metal Alchemist starting on Saturday, September 17th. There is panoply of FMA merchandise available (or in the pipe) including DVDs from FUNimation, a popular manga series from Viz, a Trading Card Game from Joyride Entertainment, and action figures on the way from Southern Island.