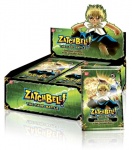 Bandai America has announced that Supreme Powers of the Golden Spell, the first expansion for the Zatch Bell Collectible Card Game (see 'Bandai's Zatch Bell CCG'), will be released on October 7th. The expansion will add 112 cards to the game, is primarily focused on Zatch Bell and his golden spell, and makes possible a spell that when activated makes Zatch Bell nearly invulnerable. The Supreme Powers of the Golden Spell expansion will be sold in 10-card booster packs (MSRP $3.99) containing 1 rare, 1 parallel holo-foil, 3 uncommon, and 5 common cards. Bandai will follow-up this expansion with the release of a new series of Spell Books (see 'Zatch Bell Spell Books Also Collectible') each containing an exclusive Mamodo card, in early November. The Spell Books will be available in new colors and allow players to create new decks themed after their favorite Mamodos.
The Supreme Powers of the Golden Spell expansion includes 25 new Mamudos as well as over 50 spells for current and new Mamudo. The new expansion also contains powerful Event cards, which allow players to put together incredible strategic combinations.
In addition to the Bandai Zatch Bell CCG, Viz is releasing Zatch Bell manga and anime DVDs (see 'Viz Plans Zatch Bell Anime') and the anime series itself is running on the Cartoon Network, while Mattel is releasing Zatch Bell toys and Artbox has Zatch Bell trading cards.