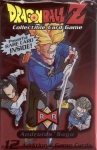 Although Score has been selling its highly successful Dragon Ball Z CCG to mass merchants for some time, at the recent Retailer Summit in Las Vegas, ICv2 learned that mass merchant penetration will become much more visible in the upcoming holiday season. Although a heavy presence in discount department stores has tended to sharply reduce sales in pop culture stores on some products (for example the Gundam models), Score is taking steps to differentiate the product sufficiently to make the pop culture stores continue to be an attractive channel. The DBZ CCG has been a consistent top seller in ICv2's Top 10 Cool Games lists (see 'Top 10 Cool Games'), based on sales in pop culture stores, so there's a lot to protect in the existing channels.
There are actually three different card packs for the DBZ CCG. Initial release into the hobby for each new DBZ product is via 'limited edition' packs which are marked as such on the wrapper. These packs contain twelve cards and carry an MSRP of $3.29. There is approximately one foil card in every two packs. After the initial release is sold out, additional packs are sold to the hobby in the same configuration, but without the 'limited edition' markings. Mass market products are sold in a pack of ten, with an MSRP of $2.99. The foil cards are also not mixed as heavily, with approximately one foil card in every three packs in the mass market products.
Score plans to launch its new Buffy CCG (see 'Buffy CCG Details Set') in the same way it has launched the DBZ game -- by concentrating on successful sales in the hobby channels first, and waiting until the game is well-established before mounting a push for more aggressive display in mass merchants.
Whether Score's product differentiation strategy will be enough to maintain the high level of sales it has been enjoying in game, comic, and card stores remains to be seen, but at least the company is making an effort to create differences between the products sold in the two channels in the hope that pop culture stores can continue to be a strong base of support.