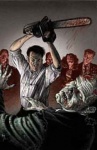 As of Friday, October 12th, U.S. Playing Cards laid off four of the five remaining employees in its Journeyman division, effectively shutting down the producer of Scooby Doo, Age of Empires, Peasantry, the just-released Zombies, and the soon-to-be released Ebay card game. The shutdown is part of a larger restructuring of U.S. Playing Cards, ongoing on for several months, that has included the departure of the CEO and other layoffs outside of Journeyman. According to its website, there were once eight people in the Journeyman division, so the four positions eliminated last Friday were apparently not the first to go. Reasons for the restructuring are murky, but may include less demand for the company's flagship Hoyle, Bicycle, Aviator, and Bee playing cards due to slower times in the casino business. According to Todd Breitenstein, formerly Manager of the Journeyman division and currently Marketing Liason (and the last employee), the layoffs were not related to the performance of Journeyman, but rather to issues related to the parent. U.S. Playing Cards is a 134-year-old privately held Ohio-based company, and is the world's largest manufacturer of playing cards.
Journeyman was displaying copies of its latest game -- Zombies -- at the Las Vegas Retailer Summit last week, and retailers have been receiving it this week. According to Breitenstein, Zombies has been selling very well both at the consumer and retail level, and the company may actually have a hit on its hands. Journeyman's next release -- the Ebay card game (not to be confused with the Hasbro board game currently being widely advertised on television) -- will be shipping within the next week or two, and it's also expected to do well.
While the future of Journeyman as a unit of U.S. Playing Cards is uncertain, Breitenstein seemed confident of the future of the games, especially Zombies.

He suggested that if U.S. Playing Cards was not able to continue to support these properties that they could be licensed off to another game company.

Additional Zombies products were planned for early 2002, and while it's 'up in the air' as to whether they will be released by Journeyman, Brietenstein felt they would see the light of day somewhere.