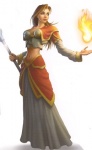 At the New York International Toy Fair Upper Deck showed off a full range of products including several new trading card games, its new Quickstrike TCG system, innovative starter deck packaging, stickers sets, action figures, and wall stickers.
World of Warcraft
Upper Deck's major new TCG initiative for 2006 is its World of Warcraft TCG, which debuts in August with an expansion slated for a November release. According to Cory Jones, Upper Deck's Director of Brand and New Product Development, the company has spent four times as much on art for the World of Warcraft game as it has on any single Vs. launch, and the roster of artists working on the project, which includes Todd McFarlane, Greg Hildebrandt, Dave Dorman, Greg Staples, R. K. Post and others (see 'McFarlane, Hildebrandt Illo World of Warcraft TCG'), is clearly second to none. The World of Warcraft TCG is, according to Jones, 'Upper Deck's number one most anticipated core launch of 2006.... We have as many internal resources as we have ever had working on the design of this game.'
Upper Deck's World of Warcraft game, which ties in to the popular World of Warcraft MMORPG via scratch-off Loot Cards featuring codes which allow players to access cosmetic upgrades for their online WOW characters. There will be three levels of rarity for the Loot Cards, and the fact that the codes are foil covered means that dealers will be able to display the cards without revealing the codes and create what could become a hot secondary market.
Jones promises 'a lot of tournament support' for the World of Warcraft game, as well as innovative gaming concepts such as special 'Raid' decks, which should provide something akin to a role-playing experience. The owner of the Raid deck plays one of the WOW monsters protecting say a dungeon, and playing three or four friends in a D&D-like format that Upper Deck hopes to duplicate at major conventions at which fans can match up against some of the WOW game designers, who will take on the role of a monster fending off a raiding party.
Yu-Gi-Oh! TCG
The big news in the world of Yu-Gi-Oh! this year was the appearance of the Yu-Gi-Oh! GX anime series, which has a slightly younger target demographic than the previous releases. GX-based cards have found their way into all of Upper Deck's 2006 Yu-Gi-OH! releases including the 2006 Yu-Gi-Oh! Starter Decks, a new introductory product debuting in April. In May Upper Deck is releasing the next Yu-Gi-Oh! TCG Structure Deck: Invincible Fortress, which has been modeled after popular decks in Japan. Also arriving in May is Enemy of Justice, an expansion for Yu-Gi-Oh!, which adds 60 cards and provides fans the first opportunity for fans to get cards from Season 2 of the Yu-Gi-Oh! GX anime series.
Upper Deck is also releasing Yu-Gi-Oh! GX Sticker Albums and Sticker Packs in October. The entire series contains 132 common stickers and 32 embossed stickers, while each Sticker Pack includes 4 common stickers and 1 embossed sticker.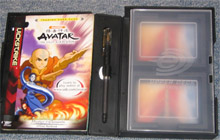 Quickstrike TCGs
One of Upper Deck's major launches for 2006 is the Avatar: The Last Airbender TCG (see 'Avatar TCG Introduces Quickstrike'), which is based on the popular Nickelodeon cartoon series. The Avatar series features Chamber Card technology, which adds another level to game play, and the Path of Enlightenment Starter Deck, due out in September, will come packaged in an innovative plastic box, which fits nicely on a bookshelf and contains enough room for starter decks, playing mats and other TCG paraphernalia. In addition to Avatar, Pirates Starter Decks and World of Warcraft Starter Decks will also come in the same packaging, which may well be extended to Vs. products as well depending on player's reaction to this innovative design.
The second Upper Deck release of 2006 to feature its new Quickstrike gaming system is the Pirates of the Caribbean TCG, which debuts in June and also features Chamber Cards (like the Shaman King TCG's) Once the second Pirates of the Caribbean movie debuts in early July, this release should have plenty of brand recognition. An Expansion for the Pirates of the Caribbean TCG is currently slated for November.
Versus TCG
Upper Deck's Vs. games feature superheroes from Marvel and DC, the top two comic book publishers in the U.S. In 2006, in addition to releases that tie-in with the two blockbuster superhero movie releases, Marvel's X-Men 3 and DC's Superman Returns, Upper Deck is also planning to release two high-end, deluxe tins, the Galactus Collector Set featuring Marvel characters, and the Infinite Crisis Collector Set, which is based on a key event in the DC universe. Both of these deluxe gift items, which include 4 exclusive variant extended art foil cards, will be available in October.
Other Vs. releases include Heralds of Galactus, which arrives in September and adds 220 cards to the Marvel TCG, and the Legion of Superheroes, which will provide 220 new cards for the DC game when it hits retail in November.
Monster Allergy
Like Upper Deck's Winx Club TCG, its Monster Allergy card game is based on an animated property developed in Italy by the Rainbow Studio. The Monster Allergy animated series is headed for the Cartoon Network and the KidsWB. Upper Deck's game, in which kids become 'Monster Tamers' (as they do in the cartoon series) is targeted at boys 6 and up, and should debut next fall.
First Board Game
Upper Deck's first board game, What's Your Astrostyle, is a mass-market oriented game targeted at tween and teen girls from 10-14 and is based on the identical twins who are the official astrologers for Teen People Magazine.
Other Initiatives
Upper Deck will continue to make its Winx Club TCG available, but plans no new releases. This spring Upper Deck is releasing two series of jumbo wall decals, one featuring Marvel comic book superheroes and one featuring images from Yu-Gi-Oh! GX. A line of vinyl figures and mini-busts of sports heroes is also coming out in 2006, though it seems to be primarily targeted at the mass-market and sports collectible stores.