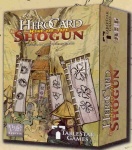 TableStar Games is planning to release 10 HeroCard products in 2006, all of which use the same game engine, but which allow players to explore the genre they like best such as science fiction, anime, superheroes, or feudal Japan. HeroCard is not a collectible card game (CCG) -- there are no randomized boosters and every game is a complete stand-alone game, although once players have mastered any one of the games, they will be able to play all of them thanks to similar game mechanics. The HeroCard games are actually hybrids -- they feature the one-on-one card-deck conflicts of CCGs, but they are also board games with boards and tokens. Each game comes with a board, tokens and pre-constructed character decks, while additional characters can be added by purchasing pre-constructed expansion decks.
Although the HeroCard games are all 'kid friendly,' Cyberspace and Rise of the Shogun work best with players 13 and up, while the superhero (Champion of New Olympia) and science fiction (Galaxy) games are suitable for players 10 and up. TableTop Games plans an aggressive print and online advertising push to launch the HeroCard system, and is also fashioning a $10,000 summer-long tournament tour spanning four months and six conventions including Kubla Con, Origins, Comic Con, GenCon, Penny Arcade, and DragonCon. Alliance and Blackhawk have already agreed to distribute the HeroCard games and other distributors are expected to follow suit.
The first two HeroCard games, HeroCard Cyberspace and HeroCard Galaxy, will debut on May 12th. HeroCard Cyberspace (MSRP $34.95) includes four pre-constructed character decks and can be played by 2-4 gamers. HeroCard Galaxy (MSRP $19.95) includes two character decks (The Cult and the Mechagen) while two other characters, Crab (a bio-engineered live-ship) and the ENG (or Energy Garnering Gyrosphere), are available as expansions (HeroCard Galaxy Crab Expansion Deck, MSRP $9.95 and the HeroCard Galaxy EGG Expansion Deck, also $9.95). Both of the Expansion Decks will be available on May 12th.
Two additional games, HeroCard Champion of New Olympia ($19.95) and HeroCard Rise of the Shogun ($19.95) will be available for distribution on July 6th. Each of these games comes with two character decks and players can also purchase two additional character decks for each game, the Ferrion and Talon Expansion Decks for Champion of New Olympia and the Miko and Prince Expansion Decks for Rise of the Shogun -- all of which retail for $9.95 and will be available on in July at the same time as the basic games are released.