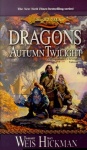 The Dragonlance animated feature, starring Lucy Lawless as Goldmoon (see 'Dragonlance Cartoon from Paramount'), is slated for theatrical release in August 2007. The story is based on Dragons of Autumn Twilight, the first Dragonlance Chronicles book by Margaret Weis and Tracy Hickman.
The Dragonlance movie is being directed by longtime animator/comic writer Will Meugniot, who's directed Stargate: Infinity, Spydogs, and other TV shows; produced X-Men, Spider-Man Unlimited, Real Ghostbusters, Exosquad and a number of other animated series; and held a variety of creative and production executive positions at Universal Family Entertainment, Stan Lee Media, DIC Entertainment, Graz Productions, and Saban Entertainment.
The film's script is by George Strayton, whose TV writing credits include Xena: Warrior Princess, Hercules: The Legendary Journeys, and Cleopatra 2525.
In addition to Lawless, Michael Rosenbaum (Lex Luthor on Smallville, plus voice work on Justice League, Teen Titans, Static Shock, and Batman Beyond) has been cast as Tanis Half-Elven, and Jason Marsden (who has an extensive list of voice credits, including Fairly Oddparents, Xiaoliln Showdown, Teen Titans, Codename Kids Next Door, and W.I.T.C.H.) as Tasslehoff Burrfoot.
Three production companies are involved: India-headquartered Toonz Animation; Epic Entertainment, which has a variety of other game-based properties in development, including Deadlands, Magic, Urban Arcana, and World of Darkness; and Commotion Pictures.