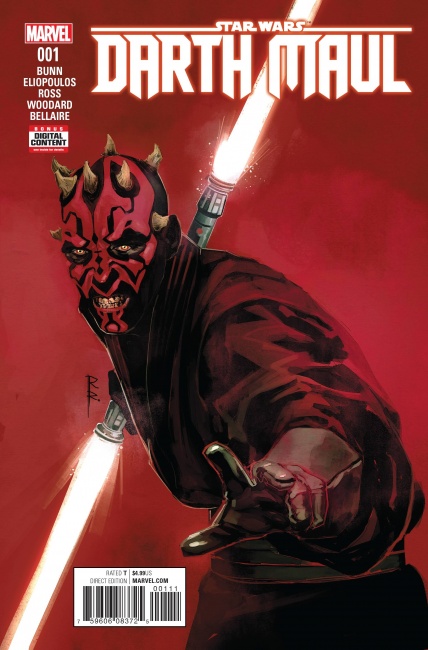 Sales of comics and graphic novels to North American comic stores declined 4.11% in February 2017 vs. the year ago period, according to information released today by Diamond Comic Distributors. This was similar to the 3.41% decline reported for January (see "
Graphic Novel Decline Pulls Down Comics Market
"), bringing the year to date number to a 3.76% decline vs. the first two months of 2016.
Comics led the way down in February, with a 4.47% decline; graphic novels were down 3.3%. Marvel Comics had a slightly smaller share lead over DC Comics in February, compared to January.
February 2017 Comic Channel Market Share
37.46% Marvel Comics
30.23% DC Entertainment
9.58% Image Comics
5.83% IDW Publishing
2.57% Dark Horse Comics
2.08% BOOM! Studios
1.52% Dynamite Entertainment
1.16% Titan Comics
1.10% VIZ Media
0.86% Oni Press
Marvel took the top slot on the comics chart with the first issue of its new Star Wars title: Star Wars: Darth Maul #1. The ongoing Star Wars title was its only other title in the Top 10; there were no Marvel universe titles among that group.
Top 10 Comics – February 2017
Star Wars Darth Maul #1
Batman #16
Batman #17
Justice League of America #1
Super Sons #1
Walking Dead #164
All Star Batman #7
Star Wars #28
Justice League of America #1
Justice League #14
Image Comics took the top slot on the Top 10 Graphic Novels chart with Rick Remender, Jerome Opena, and Matt Hollingsworth's Seven to Eternity. And how great is it that there's a graphic novel with a title like Snotgirl at #4?
Top 10 Graphic Novels – February 2017
Seven to Eternity Vol. 1
Love Is Love
Batman Detective Vol. 1
Snotgirl Vol. 1
Wonder Woman Vol. 01
March Book 3
Superman Action Comics Vol. 1
Hal Jordan & the GLC Vol. 1
Outcast Vol. 4
Civil War II
For our estimates of actual sales by Diamond U.S. from comic specialty stores on comic books shipped during February, see "Top 300 Comics Actual--February 2017."

For our estimates of actual sales by Diamond U.S. from comic specialty stores on graphic novels shipped during February, see "Top 300 Graphic Novels Actual--February 2017."

For our estimates of actual sales by Diamond U.S. from comic specialty stores on comic books shipped during January, see "Top 300 Comics Actual--January 2017."

For our estimates of actual sales by Diamond U.S. from comic specialty stores on graphic novels shipped during January see "Top 300 Graphic Novels Actual--January 2017."