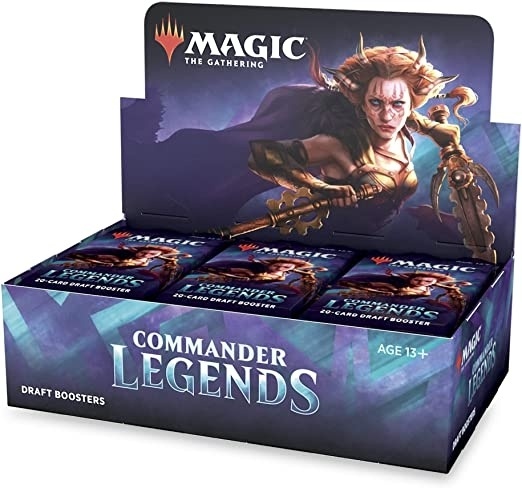 Since we first published a list of the Top 25 Sealed TCG Products a few months back (see "
Top 25 Sealed TCG Products – July 2020
"), we've worked with the folks at TCGplayer to add more info that our readers may find valuable: prices! The chart now includes the price at the beginning of the month and at the end of the month. Products are ranked in dollar sales order on the TCGplayer platform for the month.
This chart is based on sales on the TCGplayer platform, the largest marketplace in the U.S. for collectible card games including
Magic: The Gathering, Pokemon, Yu-Gi-Oh!
and other card games and supplies. TCGplayer provides inventory management and fulfillment services to retailers.
Top 25 Sealed TCG Products - October 2020

Rank

Product Brand

Product

Set Name

Price Start of October

Today's Market $

1

Magic

Commander Legends Draft Booster Box

Commander Legends

$121.27

$132.00

2

Magic

Commander Legends Collector Booster Display Box

Commander Legends

$286.19

$284.00

3

Magic

Zendikar Rising Collector Booster Display

Zendikar Rising

$254.93

$199.23

4

Pokemon

Champions Path Elite Trainer Box

Champions Path

$88.99

$80.71

5

Yu-Gi-Oh!

Maximum Gold Display 1st Edition

Maximum Gold

$108.65

$125.61

6

Pokemon

Vivid Voltage Booster Box

SWSH04 Vivid Voltage

$108.85

$147.08

7

Pokemon

Champions Path Booster Pack

Champions Path

$7.25

$6.78

8

Magic

Commander Legends Draft Booster Box Case

Commander Legends

$694.45

$728.51

9

Yu-Gi-Oh!

Phantom Rage Booster Box 1st Edition

Phantom Rage

$66.27

$66.03

10

Magic

Double Masters VIP Edition Box

Double Masters

$398.64

$391.60

11

Pokemon

XY Evolutions Booster Box

XY Evolutions

$159.94

$425.22

12

Yu-Gi-Oh!

Battles of Legend Armageddon Booster Box 1st Edition

Battles of Legend Armageddon

$115.00

$108.87

13

Magic

Zendikar Rising Set Booster Display

Zendikar Rising

$140.00

$108.78

14

Pokemon

Base Set Booster Pack Revised Unlimited Edition

Base Set

$349.99

$347.21

15

Magic

Double Masters Booster Box

Double Masters

$299.96

$296.52

16

Magic

Jumpstart Booster Box

Jumpstart

$168.28

$165.77

17

Yu-Gi-Oh!

Legendary Duelists Rage of Ra Booster Box 1st Edition

Legendary Duelists Rage of Ra

$60.50

$56.17

18

Pokemon

Champions Path Premium Collection Marnie

Champions Path

$56.09

$59.09

19

Pokemon

Unbroken Bonds Booster Box

SM Unbroken Bonds

$216.95

$168.19

20

Magic

Zendikar Rising Draft Booster Box

Zendikar Rising

$103.49

$99.52

21

Cardfight!! Vanguard

V SS04 Majesty Lord Blaster Constructed Deck

V SS04 Majesty Lord Blaster

$71.80

$67.81

22

Pokemon

Hidden Fates Booster Pack

Hidden Fates

$9.95

$11.49

23

Magic

Modern Horizons Booster Box

Modern Horizons

$169.99

$180.60

24

Yu-Gi-Oh!

Rise of the Duelist Booster Box Case 1st Edition

Rise of the Duelist

$112.95

$136.48

25

Magic

Double Masters VIP Edition Box Case

Double Masters

$1,599.85

$1,319.09