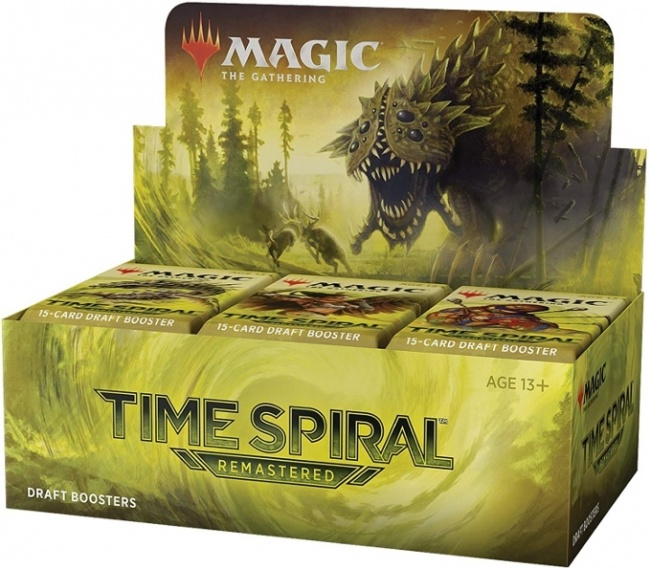 The
Magic: The Gathering Time Spiral Draft Booster Box
had a big month in March, according to the TCGplayer chart of the Top 25 Sealed TCG Products. It ranks the most active products on the TCGplayer platform by dollar volume, and shows the beginning and ending prices of each product. Not only did this product from the latest
Magic
set top the dollar ranks, it also showed the biggest percentage increase in price of all the titles in the Top 25.
Having a
Magic
product at the top of the chart gives the
Pokemon TCG
, which had been dominating the chart in recent months (see "
TCGPlayer Top 25 Sealed TCG Products – February 2021
"), a break, although
Pokemon
still took 11 of the top 25 slots.
This chart is based on sales on the TCGplayer platform, the largest marketplace in the U.S. for collectible card games including
Magic: The Gathering, Pokemon, Yu-Gi-Oh!
and other card games and supplies. TCGplayer provides inventory management and fulfillment services to retailers.
Top 25 Sealed TCG Products - March 2021

Rank

Product

Product Brand

Set Name

Month Start Market $

Month End Market $

1

Time Spiral Remastered Draft Booster Box

Magic

Time Spiral Remastered

$197.98

$344.97

2

Battle Styles Booster Box

Pokemon

SWSH05 Battle Styles

$148.81

$155.40

3

Vivid Voltage Booster Box

Pokemon

SWSH04 Vivid Voltage

$194.55

$247.99

4

Ghosts From the Past Box Display 1st Edition

Yu-Gi-Oh!

Ghosts From the Past

$139.33

$133.26

5

Strixhaven School of Mages Collector Booster Display

Magic

Strixhaven School of Mages

$246.82

$224.98

6

Shining Fates Elite Trainer Box

Pokemon

Shining Fates

$101.02

$88.04

7

Release Special Booster Ver1.5 Booster Box

Digimon CG

Release Special Booster

$190.75

$171.46

8

Darkness Ablaze Booster Box

Pokemon

SWSH03 Darkness Ablaze

$167.43

$191.00

9

Strixhaven School of Mages Draft Booster Box

Magic

Strixhaven School of Mages

$102.99

$117.68

10

XY Evolutions Booster Box

Pokemon

XY Evolutions

$980.45

$950.14

11

Monarch Booster Box 1st Edition

Flesh and Blood

Monarch

$296.99

$409.34

12

Release Special Booster Ver1.0 Booster Box

Digimon CG

Release Special Booster

$200.99

$232.90

13

Shining Fates Booster Pack

Pokemon

Shining Fates

$10.79

$8.68

14

Battle Styles Booster Box Case

Pokemon

SWSH05 Battle Styles

$857.50

$936.25

15

Strixhaven School of Mages Set Booster Display

Magic

Strixhaven School of Mages

$128.93

$112.91

16

Champions Path Elite Trainer Box

Pokemon

Champions Path

$82.14

$94.80

17

Time Spiral Remastered Draft Booster Box Case

Magic

Time Spiral Remastered

$1,198.98

$1,191.98

18

Evolutions Booster Pack

Pokemon

XY Evolutions

$14.47

$15.70

19

Battle Styles Elite Trainer Box Rapid Strike Urshifu Blue

Pokemon

SWSH05 Battle Styles

$81.37

$62.36

20

Commander Legends Draft Booster Box

Magic

Commander Legends

$117.33

$111.46

21

Blazing Vortex Booster Box 1st Edition

Yu-Gi-Oh!

Blazing Vortex

$60.06

$60.97

22

Double Masters Booster Box

Magic

Double Masters

$344.95

$414.93

23

Welcome to Rathe Booster Box Unlimited Edition

Flesh and Blood

Welcome to Rathe

$91.00

$91.39

24

Crucible of War Booster Box 1st Edition

Flesh and Blood

Crucible of War

$770.99

$942.31

25

Hidden Fates Elite Trainer Box

Pokemon

Hidden Fates

$151.99

$154.03