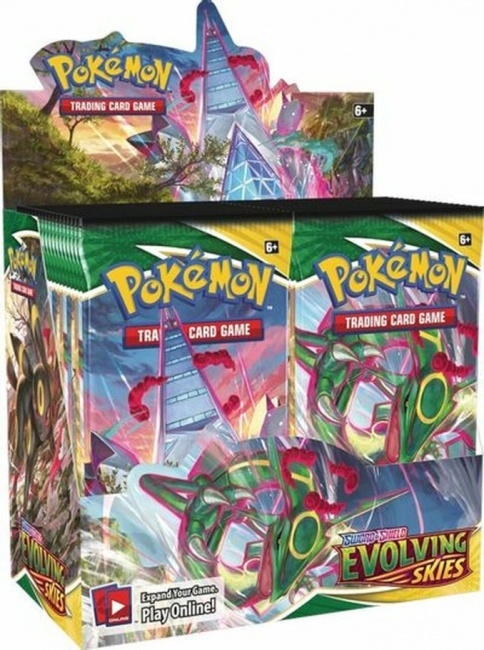 The
Pokemon TCG: Evolving Skies Booster Box
, due out this month ("
'Pokemon TCG' Release Calendar
") was the most actively bought and sold sealed TCG product in July 2021, according to the TCGplayer chart of the Top 25 Sealed TCG Products. It ranks the most active products on the TCGplayer platform by dollar volume, and shows the beginning and ending prices of each product.
Pokemon
also took three of the top four slots, and nine of the Top 25 overall,
Magic: The Gathering
had ten.
Yu-Gi-Oh!
had the #2 product, two of the top ten, and three overall.
Dragon Ball Super, Digimon
, and
Flesh and Blood
had one each.
This chart is based on sales on the TCGplayer platform, the largest marketplace in the U.S. for collectible card games including
Magic: The Gathering, Pokemon, Yu-Gi-Oh!
and other card games and supplies. TCGplayer provides inventory management and fulfillment services to retailers.
TCGplayer Top 25 Sealed TCG Products - July 2021 (via ICv2)

Rank

Product

Product Brand

Set Name

Month Start Market $

Month End Market $

1

Evolving Skies Booster Box

Pokemon

SWSH07 Evolving Skies

$169.50

$135.84

2

Kings Court Booster Box

Yu-Gi-Oh!

Kings Court

$72.87

$86.96

3

Chilling Reign Booster Box

Pokemon

SWSH06 Chilling Reign

$120.05

$135.10

4

Vivid Voltage Booster Box

Pokemon

SWSH04 Vivid Voltage

$123.53

$125.34

5

Modern Horizons 2 Set Booster Display

Magic

Modern Horizons 2

$233.32

$224.58

6

Modern Horizons 2 Collector Booster Display

Magic

Modern Horizons 2

$339.58

$347.15

7

Adventures in the Forgotten Realms Draft Booster Box

Magic

Adventures in the Forgotten Realms

$138.77

$108.71

8

Adventures in the Forgotten Realms Collector Booster Display

Magic

Adventures in the Forgotten Realms

$261.04

$186.44

9

Dawn of Majesty Booster Box

Yu-Gi-Oh!

Dawn of Majesty

$68.94

$65.94

10

Adventures in the Forgotten Realms Set Booster Display

Magic

Adventures in the Forgotten Realms

$131.52

$93.27

11

Chilling Reign Booster Box Case

Pokemon

SWSH06 Chilling Reign

$699.95

$677.80

12

Battle Styles Booster Box

Pokemon

SWSH05 Battle Styles

$97.16

$97.55

13

Commander Legends Collector Booster Display Box

Magic

Commander Legends

$354.99

$348.51

14

Adventures in the Forgotten Realms Commander Deck Display

Magic

Commander Adventures/Forgotten Realms

N/A

$119.08

15

Vivid Voltage Booster Box Case

Pokemon

SWSH04 Vivid Voltage

$725.69

$707.56

16

Evolving Skies Elite Trainer Box Glaceon Vaporeon Sylveon Espeon

Pokemon

SWSH07 Evolving Skies

$79.73

$65.45

17

Cross Spirits Booster Box Case

Dragon Ball Super

Cross Spirits

N/A

$1,113.55

18

Modern Horizons 2 Draft Booster Box

Magic

Modern Horizons 2

$232.71

$208.41

19

Jumpstart Booster Box

Magic

Jumpstart

$103.83

$102.30

20

Adventures in the Forgotten Realms Prerelease Pack

Magic

Adventures in the Forgotten Realms

$33.89

$22.09

21

Monarch Booster Box Case 1st Edition

Flesh & Blood

Monarch

$1,207.43

$1,120.02

22

Evolving Skies Elite Trainer Box Set of 2

Pokemon

SWSH07 Evolving Skies

N/A

$131.85

23

Release Special Booster Ver15 Booster Box

Digimon

Release Special Booster

$122.99

$98.50

24

Evolving Skies Elite Trainer Box Flareon Jolteon Umbreon Leafeon

Pokemon

SWSH07 Evolving Skies

$79.73

$65.11

25

2021 Tin of Ancient Battles

Yu-Gi-Oh!

2021 Tin of Ancient Battles

$24.44

$22.36