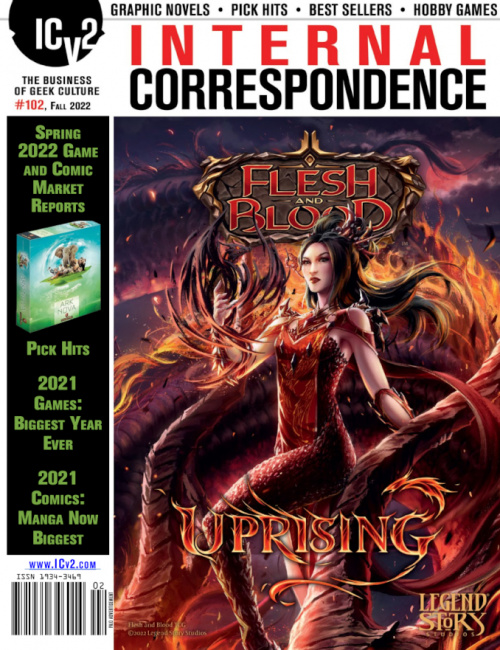 Hobby game sales jumped one-third in 2021, the second year of Covid-altered retailing, according to ICv2 market size estimates. Sales for the category were $2.69 billion, up from $2.03 billion in 2020. Every subcategory of hobby games was up, with steep rates of increase for collectible games leading the way.
The huge channel shifts we saw in 2020 pulled back toward game stores in 2021, as consumers resumed shopping at (or from, using curbside or delivery) their local retailers. While sales at chains and via Amazon and other online sellers remained strong, independent retailers took back some of the share they'd lost in 2020 due to store closures that affected them differentially.
Supply chain issues, which began in early 2020, came to the fore in 2021, affecting every aspect of the business, not least of which was a reduction in sales below what could have been achieved with smooth supply.
Despite the problems, record amounts of TCGs were shipped to market all year, with
Magic
the hottest in Q2 and Q3,
Pokemon
hot all year, especially its Celebrations range, and
Yu-Gi-Oh!
surging by the end of the year. New brands, particularly Flesh and Blood, gained traction behind the collectible demand.
The overall trends for miniatures were good, with strength across multiple lines. Games Workshop sales were up, especially in comparison to a long shutdown period in early 2020, but supply constraints limited growth, with ongoing allocations of new product and delays and low fill rates on backlist.
Board game sales grew, driven by consumers buying familiar games to play in the bubble. Hobby evergreens (e.g.,
Catan
) became more mass-driven, while new evergreens (e.g.,
Wingspan
) began driving sales in the hobby channel. Introductions remained challenging.
Card game trends tracked those of board games, with positive sales behind increased purchases for at-home play.
RPGs were up substantially, primarily driven by online play.
Dungeons & Dragons
was still the strong leader, but many other lines were also doing well, including micro-lines.
We define "hobby games" as those games produced for a "gamer" market, generally (although not always) sold primarily in the hobby channel of game and card specialty stores. We define the "hobby games market" as the market for those games regardless of whether they're sold in the hobby channel or other channels. Our estimates include sales in the U.S. and Canada.
The total hobby games market estimate is derived from estimates for five individual categories: collectible games (which include Trading/Collectible Card Games, Collectible Miniatures Games, and Collectible Dice Games), miniatures (non-collectible), board games, card and dice games, and roleplaying games.
Our primary means of collecting data about hobby games sales is interviews with key industry figures with good visibility to sales in various categories and channels. We also review data released by publicly traded companies, publicly available NPD data, and Kickstarter data and analysis, especially that released by ICO Partners. There were no major changes in methodology for 2021.
For in-depth analysis of 2021 hobby game sales on our Pro site, see "
Hobby Game Sales Up One-Third in 2021 – In Depth
").
The full-length version of this article, along with all of our market analysis of 2021 and Spring 2022, appeared in
Internal Correspondence
#102, which is available on our Pro site (
click here
).