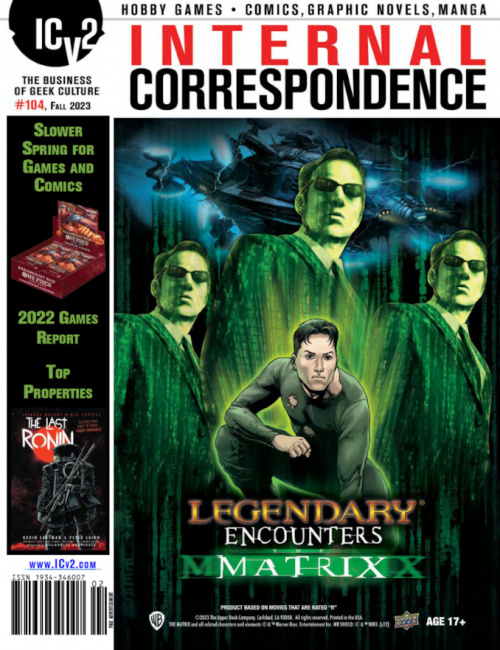 A swirl of trends shook up the miniatures business in hobby game stores in Spring 2023 (January-April), with
BattleTech
breaking into the top three and the
Dungeons & Dragons
miniatures frenzy beginning to fade as Games Workshop continued to undersupply demand.
Games Workshop began slowing restocks and allocating new releases late in 2022, and continued through the Spring season, with retailers unable to get enough of new releases for their customers, and distributors' allocations cut to the bone. Reports on sales of
Warhammer 40,000
, the top miniatures line, clustered around flat as a result; they would likely have been up had demand been filled.
"We're still having issues with getting allocations on new stuff and getting restocks of older things in," Bob Schaeffer of Dragon's Lair in San Antonio, Texas told us.
There was speculation that the reductions in Games Workshop supply were due to a redirection of manufacturing capacity toward the upcoming release of
Warhammer 40,000 10th Edition.
But since the beginning of Covid, there have been varying degrees of supply problems on GW products, so it's not clear that's the only issue.
On the other hand, supply on WizKids'
Nolzur's Marvelous Miniatures
improved during the season, even as demand on the red-hot
Dungeons & Dragons
line appeared to ebb. "The WizKids minis were down slightly," a distributor observed.
The big mover to the upside was Catalyst Game Lab's
Battletech,
which moved to #3 on our chart. For the first time in years, the
BattleTech
boxed starter sets were widely available, which removed the biggest barrier to sales on the line. "Catalyst has done a good job with the intro sets," he said. "We've been able to keep those in stock and showcase them." Fuge said the player base in his stores had quadrupled since the beginning of the year.
ICv2's Top 10 Non-Collectible Miniature Lines – Spring 2023
(Hobby Channel)

Rank

Title

Publisher

1

Warhammer 40,000

Games Workshop

2

Nolzur's Marvelous Miniatures

WizKids

3

BattleTech

Catalyst Game Labs

4

Age of Sigmar

Games Workshop

5

Star Wars Legion

Atomic Mass Games

6

Marvel Crisis Protocol

Atomic Mass Games

7

D&D Onslaught

WizKids

8

Pathfinder Deep Cuts

WizKids

9

Bones

Reaper Miniatures

10

Malifaux

Wyrd Miniatures
The in-depth version of this article appeared in Internal Correspondence #104. For the full-length version of this article on the ICv2 Pro site, click here.

For other market reports on Spring 2023, see:
Top Brands Drive TCG Growth
Board and Card Game Sales Softer
OGL Mis-Step Shakes Up RPG Business

If you are a U.S. retailer, e-mail Dennis Viau at DViau@ICv2.com to get your free subscription to ICv2's Internal Correspondence.

ICv2 Pro subscribers have early and complete access to Internal Correspondence. Click here for the complete Internal Correspondence #104.