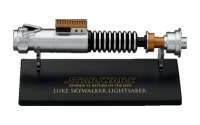 Corgi International and Lucasfilm have announced that the Star Wars license agreement between the two companies will expire at the end of this year. Corgi's recently acquired Master Replicas division (see 'Corgi Acquires Cards Inc.And Merges With Master Replicas') produced replicas of lightsabers, weapons, helmets and other Star Wars props.
Howard Roffman, President of Lucas Licensing said of the parting, 'We deeply regret that we and Corgi could not come to terms on a new agreement.'
And Corgi CEO Michael Cookson said, 'We have enjoyed our six year relationship with Lucasfilm, Ltd. and the work that we have done with (them) to help grow and expand the Star Wars franchise. Jointly, we have developed some of the highest quality and coolest products for the core Star Wars fans. At the same time, Corgi is committed to building a healthy, profitable company.'
The Master Replicas lightsaber replicas line, which retails for from $100 to $300, has been the highlight of the line, and a great seller for retailers that stocked it.