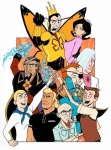 Bif Bang Pow! will produce a line of action figures, bobble heads, and vehicles based the Adult Swim show The Venture Bros. First up is a line of 7" resin bobble heads due out this spring. Articulated action figures will follow in the summer, featuring Dr. Venture, The Monarch, Brock Samson, Hank & Dean Venture, and others.
The deal was reached between Bif Bang Pow! and Cartoon Network Enterprises, which handles licensing and merchandising for Adult Swim.
Bif Bang Pow! has produced other tv-based toy lines, including one based on the hit show Lost (see "Bif Bang Pow! Does Lost").