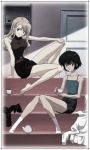 Starz is developing a live action series based on Noir, the 2001 Bee Train anime directed by Koichi Mashimo (Dirty Pair, Dominion), according to Hollywood Reporter. The series will be exec produced by Sam Raimi and Rob Tapert, who did Spartacus for Starz. Raimi has tons of genre experience, including directing the first three Spider-Man films.
Noir features two gorgeous and deadly protagonists, who must band together to survive, but who can never establish a bond of trust, in part because they are both trained assassins battling against a mammoth conspiracy. The series is known for its cutting-edge animation, superb use of music, complex narrative, and sexy protagonists.
Noir was released in the U.S. by ADV beginning in 2003 (see "Noir Anime Streets in February"). Rights have recently been picked up by Funimation, which plans to re-release the anime series in 2011.