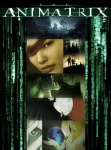 Three years in the making and featuring some of the top talent in the anime world, The Animatrix DVD represents a groundbreaking collaboration between Hollywood and Japanese animators. This collection of nine short films sheds new light on the Matrix saga and provides new perspectives on the characters who inhabit the world of the Matrix. The DVD also features an eclectic techno soundtrack that includes some of today's hottest electronica artists as well as an original score by Don Davis, who composed the music for all three films in the Matrix trilogy. Two of the nine short Animatrix films even include vocal work by the lead actors in the Matrix saga, Keanu Reeves and Carrie-Anne Moss. The Animatrix DVD ships on June 3, and provides 180 minutes of entertainment for a very reasonable MSRP of $24.98.
The stellar list of anime contributors to The Animatrix includes Yoshiaki Kawajiri, the writer/director of Ninja Scroll and Vampire Hunter D; Shinchiro Watanabe, the writer director of the Cowboy Bebop movie; Koji Morimoto, the animation supervisor of the seminal anime film Akira; Mahiro Maeda, director of Blue Submarine #6; Takeshi Koike, lead animator on Wicked City; Peter Chung, creator and director of Aeon Flux and Reign the Conqueror; and Andy Jones, the animation director for Final Fantasy: The Spirits Within. In addition to these stellar contributors, credit should also be given to the Matrix creators, Andy and Larry Wachowski, who wrote the scripts for three of the Animatrix shorts as well as figured out how to integrate The Animatrix films into the multi-media extravaganza that has turned 2003 into the 'year of the Matrix' (see 'It's All Part of the Matrix').
Although four of the nine Animatrix films will be available on the Web and another will be released with Lawrence Kasdan's version of Stephen King's Dreamcatcher on Mar. 21, Matrix fans will have to buy The Animatrix DVD to see the other four films. But in addition to the four short films available nowhere else, Matrix fans will also find that The Animatrix DVD is loaded with lots of interesting special features, including 'Scrolls To Screen, The History and Culture of Anime,' seven 'making-of' featurettes including director profiles, and four audio commentaries, all with Japanese audio and English subtitles. In addition, a special feature on the Matrix videogame features interviews with actresses Jada Pinkett and Carrie-Anne Moss. In addition to this DVD and a two-disk DVD including the original film and The Matrix Revisited, retailers will also have toys from McFarlane toys (see 'McFarlane Toys Grabs Matrix License') and busts from Gentle Giant/Dark Horse (see 'Dark Horse Adds Film Licenses') as well as posters and apparel items.