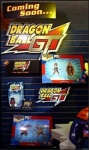 Jakks Pacific just snagged the
Dragon Ball
license in late December (see '
Jakks Lands DBZ License
'), so it is quite understandable that the company is relying on pre-production work and molds from Irwin Toys and IF Labs in the production of the first wave of Jakks
Dragon Ball
and
DBZ
figures.
With both the
Dragon Ball
and
DBZ
series playing on the Cartoon Network, it was important for Jakks to be able to produce new items quickly and not allow a gap in availability of
DBZ
items at retail.
The result of this strategy born of necessity is that Jakks won't really be able to put its stamp on the
Dragon Ball
line until the
Dragon Ball GT
figures debut late in the year.
But this doesn't mean that this year's offerings are without merit -- far from it -- it just means that
DBZ
collectors will have to wait a bit to get the full impact of this change in manufacturers.
Dragon Ball and DBZ Figures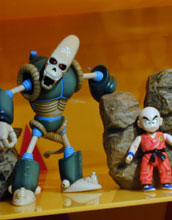 Jakks will release three series of the basic 5.5' DBZ line (series #12, #13, & #14) in 2003 starting with series 12 in the summer. All three series (retail $6.99 per figure) were designed by Irwin, but include some excellent figures including a 'battle-damaged' Goku in series 13. Even better than the DBZ figures are the 5.5' Dragon Ball figures that IF Labs designed. The first series, launching in Summer of 2003, includes General Blue, Master Roshi, Goku and Krillin, and the Pirate Robot.
Jakks is also manufacturing a number of 'Striking Z Fighters' ($7.99) that imitate the signature power moves the characters display in the TV series as well as a series of 'Energy Glow' ($9.99) figures with lights, sound effects and actual voice recordings of some of the most popular DBZ characters including Gohan, Trunks, and Goku (all in Super Saiyan mode).
DBZ figures are also available in two packs ($12.99) that feature the combatants in some of the key battles in the DBZ mythos. Goku and Vegeta, S.S. Gohan vs. Perfect Cell, and Goku vs. Raditz are just a few of the pairings from two series of 2-packs, one of which launches in the Summer, followed by a second for the Fall.
Jakks is also continuing the IF Labs series of 7' and 9' figures from the DBZ Movie Collection and the Dragon Ball Collector series. These high quality figures, which include Android #13, Super Android #13, Trunks and Vegeta, have a suggested retail price of $14.99.
DBZ Play Sets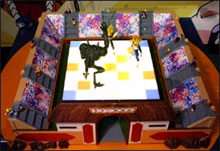 Jakks is providing DBZ fans with the perfect arena in which to power up and launch energy balls -- the Tenkaichi Budokai.

This World Tournament Stadium has sounds, lights, and space -- everything needed for Dragon Ball and DBZ battles.

Due out in the summer of 2003, the Tenkaichi Budokai has a suggested retail price of $39.99.

In the Fall this stadium will be joined by the Absorbing Buu playset, basically a giant Super Buu figure with a gooey, gelatinous belly to absorb Z-fighters.