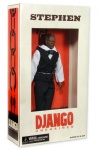 Django Unchained is a hit at the box office and a red-hot controversy over its depiction of slavery in America. Some, such as Spike Lee, have criticized the film; others embraced it. Now the controversy has spread to NECA's action figures.
There's been some buzz about the figures for the last few days, with an article on the
Daily Beast
perhaps the first national coverage, on Sunday. The article was entitled "Django Unchained: Selling Slaves as Action Figures."
Then the controversy seemed to blow up on Tuesday, with an
AP
story about Los Angeles community leaders, including Najee Ali of Project Islamic H.O.P.E., protesting the figures. "We feel that it trivializes the horrors of slavery and what African Americans experienced," Ali told the AP, who told other press he was calling for a national boycott.
The protests appear to have had some impact, as Amazon, which was carrying the figures as recently as Monday, no longer had them on its site by Tuesday night.
NECA has produced figures for Tarantino's previous films, including the potentially controversial Inglourious Basterds. This Django Unchained range, which NECA described as "similar to the retro toy lines that helped define the licensed action figure market in the 1970s," includes six poseable 8-inch figures with western clothing, authentic weapons, and accessories. The figures in the line are Calvin Candie (Lenoardo DiCaprio), Stephen (Samuel L. Jackson), Django (Jamie Foxx), Broomhilda (Kerry Washington), Butch (James Remar), and Dr. King Schultz (Chistoph Waltz).