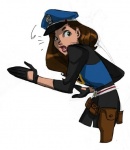 Captain Action Enterprises, in conjunction with Gang of Seven Animation (which worked on
Avengers: Earth's Mightiest Heroes
,
Wolverine and the X-Men,
and others), is developing an animated
Captain Action
series that will include Lady Action, a new female character. The series is currently being pitched to networks. The Lady Action character has begun to appear at conventions, and could eventually be used for merch as well.
Captain Action has also announced the acquisition of a DC license for costumes, which includes all the DC characters including the New 52, plus the
Batman Classic
characters from the 60s TV show. The first DC costumes,
Batman, Joker
, and
Superman
, will be released in late January 2014. Each of the three characters will include a portion of Aquaman's costume, which can be assembled by buying all three DC costumes.
In the meantime, the company continues to release new Marvel retro costumes, with
Iron Man
and
Wolverine
due in September. The price point on new costumes is being brought down to around $20 retail.