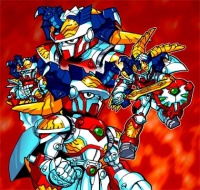 Daigunder, a mecha-heavy science fiction adventure anime series, has joined the lineup of the ABC Family cable channel, where it will be shown on both Saturdays and Sundays at 9:30 am (ET, PT) starting on September 13. Produced by NAS for TV Tokyo, Daigunder is a 39-episode, kid-friendly, mecha-based series that aired in 2002 in Japan. Daigunder more or less replaces the frenetic and highly inventive Tokyo Pig series, which unfortunately never got the ratings it deserved here in the States.
The popular Beyblade series, based on the high-tech spinning top toys from Hasbro, remains the anchor of the ABC Family anime offerings. Beyblade will continue on both weekdays and weekends, while its companion from last year, Medabots will only be around for weekend duty. The Digimon series will join Beyblade for a daily anime block starting at 7am (ET, PT) and will be shown twice (at 7am and 10am) on the weekends.
Takara has produced a cool series of Daigunder toys in Japan. If the series generates any heat, look for Hasbro to release Daigunder mecha figures here in the U.S.