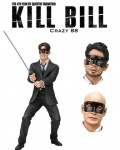 NECA has released images of the Crazy 88 Figures from its series of action figures based on Quentin Tarantino's cult hit Kill Bill. The first series of Kill Bill Action Figures will included Go Go, O-Ren Ishii, The Bride, and the three Crazy 88 fighters.
Ray Santoleri sculpted the Crazy 88 Figures, which stand almost seven inches tall. Though they share the same basic body form and costume, the three figures have different head sculpts, different accessories, and a different portion of the floor of the House of Blue Leaves. Collectors who have all three Crazy 88 Figures and the Bride Figure can form their own diorama of the House of Blue Leaves showdown.
The Crazy 88 Figures also come with detachable severed limbs, and alternate right arms and hands suitable for creating other poses. NECA is targeting the adult collector market for this line of cult movie-related action figures (see 'NECA To Do 'Kill Bill' Action Figures') based on the ultra-violent NC-17 rated Kill Bill.
The NECA Kill Bill Series 1 Action Figures should be out in March in time to take advantage of the release of Kill Bill, Vol. 2, the second half of the film saga which debuts on February 20, 2004.

In addition to its Kill Bill Action Figures, NECA is also releasing a series of block figures based on Tarentino's Pulp Fiction (see 'Pulp Fiction Block Figures').