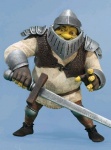 The movie is boffo and the mass market is rocking, but an unscientific survey of some twenty retailers from coast to coast indicates that sales of Shrek toys and trading cards are only 'OK' in pop culture stores. Retailers like Bill Leibowitz of Golden Apple in Los Angeles, who ordered the Shrek toys direct from McFarlane Toys, are among the few that appear satisfied with the sales velocity on the toys. Even Golden Apple reports that items which they didn't order direct and which arrived several weeks after their direct shipments are moving slowly. Some retailers who are located in the vicinity of mass market competition simply refuse to take on mass market items, but others like Paul Mullin of Comic Book World say they can compete successfully if they receive the goods at the same time as their large scale competitors.
A spokesperson for McFarlane Toys told ICv2 that the toys are doing very well overall, especially the talking plush figures, the playsets, and the six-inch figures. So far Shrek has exceeded all expectations at the box office where it is currently ahead of the pace set by The Lion King, which is the all-time box office (and merchandise) champion of animated films (see 'Shrek Continues To Shine'). If Dreamworks, the studio that created Shrek, follows Disney's Lion King example, the studio will pull Shrek from the theaters after a few more weeks and then re-release it during the holidays. This plan would certainly provide some longevity and holiday gloss for Shrek merchandise, but to reach the Lion King's 'first run' total of $270 million, Shrek will have to continue to perform strongly for the next month as competition heats up with the release of three other animated films Disney's Atlantis, Warner Brothers' Osmosis Jones, and the hyper-realistic Final Fantasy.
So it is still far from certain that Shrek will continue to keep pace with The Lion King, and there is also the question of whether this kind of tremendous mass market success translates into sales in pop culture stores.

The Lion King did most of its merchandise 'damage' in the mass market, while other animated properties like Dragonball Z

manage to sell well in both the mass and specialty markets.

The Tim Burton-directed Batman was another huge hit in both marketplaces.

But many movies that are big hits at the box office don't sell merchandise in specialty stores, while other films like Burton's Nightmare Before Christmas have modest runs in the theaters, but turn out to be big sellers in pop culture stores for years.

It's still too early to know how Shrek will stack up, but the early indications are that the big green ogre is more of a mass market phenomenon.