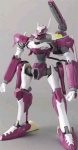 The multi-media property Eureka Seven, which includes an anime series, toys, and a video game, is set for a 2006 launch in the U.S. Bandai America has already released photos of transforming robot toys based on the mecha designed by Shoji Kawamori (Macross, Patlabor, Gundam, Escaflowne) and Anime Insider is reporting that Bandai Entertainment is planning a 2006 U.S. release of the Eureka Seven anime series, which debuted this past April in Japan, possibly in conjunction with exposure on American television. Meanwhile the release of the first Eureka Seven PS 2 videogame, which is set in the same 'world' as the anime but features a different main character, is set for October 27th in Japan.
The Eureka Seven anime series (see 'Bandai Entertainment's Eureka Seven'), produced by Bandai in conjunction with Studio Bones (Cowboy Bebop, Wolf's Rain), features an all-star team of creators including director Tomoki Kyoda (RahXephon), mechanical designer Shoji Kawamori (see above), and character designer Kenichi Yoshida (Cowboy Bebop the Movie). The ferocious action scenes of battles between sky-surfing robots have earned Eureka Seven excellent ratings on Japanese TV and should help make the series a hit with mecha-loving U.S. fans.
Bandai America's 8-inch Eureka Seven robot figures should be available by the time the anime series launches. Each of the three figures announced so far has multiple points of articulation and will also transform into 'vehicle mode.' The Eureka Seven robot figures will have an MSRP of $35 each.