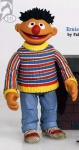 The first casualty of the Musicland bankruptcy was not an American anime company or manga publisher, but the collector-oriented toy company, Palisades Toys. Mike Horn, Palisades President and CEO sent out an email message on Wednesday indicating that after 11 years 'Palisades Entertainment LLC has discontinued its business of manufacturing and selling licensed and proprietary action figures, collectibles, toys and other goods.' Horn blamed the demise of Palisades on a general downward trend in the collectible toy industry and the 'bankruptcy of one of Palisades' largest customers' (see 'Musicland Blowback, Pt. 2' for a prescient analysis of the effects of the Musicland bankruptcy on a wide range of pop culture categories).
Horn also indicated that Palisades had sold a portion of its assets to Limited by CAS, Inc., an affiliate of C.A.S. Iberia, Inc. On its Website Limited by CAS offers a line a replicas, which might indicate that it was the Factory X portion of the Palisades portfolio that was most attractive -- it is certainly the closest fit to what Limited by CAS has done in the past. At this point it is not know whether Limited By CAS will continue any of Palisades' action figure lines, such as the Muppets, and the fate of the Palisades' first series of Sesame Street action figures remains in doubt.
ICv2 has talked with representatives from other collector-oriented toy companies and the impression they provide is that the marketplace for collector-oriented action figures is a tough place right now, and although some companies are doing well, Musicland with its Suncoast, Media Play and Sam Goody stores provided a great venue for toys aimed at older collectors and niche, media-based markets. The reps we talked with feel that Musicland will come out of bankruptcy, and that the company will need the kind of toys that collector-oriented companies like SOTA Toys, NECA, and Mezzco produce -- toys that aren't found at Wal-Mart or other discounters, who sell music CDs and DVDs at much lower prices than Musicland's stores.