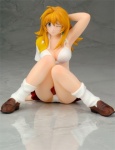 With an underwear-revealing mirror base and pliable plastic breasts Yamato's Ikki Tousen (Battle Vixens) Battle Sonsaku figure provides plenty of fan service for devotees of the uber-sexy 'fighting girls' manga and anime series. The 1/7th scale PVC statue sculpted by Japan's Zenko won't disappoint the appetites of those otaku who long for an object of desire to ogle and caress.
Given the popularity of the Ikki Tousen anime (Geneon Entertainment) and manga (Tokyopop) here in the U.S., there should be no shortage of interest in this borderline outrageous plastic purveyor of panty-shot prurience.
Yamato's Ikki Tousen Battle Sonsaku ships to stores in September with a suggested retail price of $59.99.