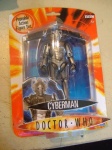 Underground Toys is bringing a wide array of merchandise based on the new BBC Doctor Who series to the North American market. Underground Toys, which will supply the Doctor Who items to specialty market retailers such as Borders, Hot Topic, and Spencer Gifts, has chosen Diamond Comic Distributors to service the direct market.
Since the Doctor Who toy line was out in the U.K. last year, Underground Toys will be able to field an impressive line in time for this coming holiday season. Two assortments of five-inch action figures (with a total of 12 figures between the two assortments), plus some 12-inch figures, key-chains, the Sonic Screwdriver, and a Radio-Controlled Dalek, should all be available in the U.S. by December. The RC Dalek was voted one of the top holiday toys in the U.K. last year.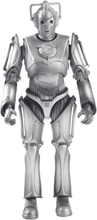 Underground Toys plans to roll out the complete line of Doctor Who merchandise, which will include a third series of action figures, additional 12-inch collector dolls, clocks, watches, and electronic gadgets, at Toy Fair in New York in February.
The Doctor Who TV series has done extremely well on the SCI FI Channel where it has delivered an average of 1.5 million viewers each week. The second season of the revamped Who series debuted on September 29th with a two-hour episode that introduced the new Doctor, played by David Tennant.