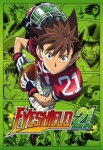 Shueisha, NAS, and TV Tokyo have formed the Eyeshield 21 U.S. Project and have managed to place the Eyeshield 21 anime series on both the Cartoon Network's Toonami Jetstream and NFLRush.com Websites, where, starting this fall episodes, can be downloaded for free. Eyeshield 21, which is based on the 24-volume (and counting) Shonen Jump manga series by Riichiro Inagaki and Yusuke Marata (published in the U.S. by Viz Media), is the first major anime/manga series dedicated to American football, and somewhat surprisingly in baseball and soccer-mad Japan, the Eyeshield 21 anime series, which debuted in April of 2005, has been a big hit with well over 100 episodes (and counting) broadcast on Japanese TV.
The NFL connection is interesting since Eyeshield 21 uses some actual NFL footage, which many thought would have to be removed if the series were released here, but with Eyeshield 21 appearing on the NFLRush.com, the footage may be allowed to remain -- and the series will be exposed to a large audience that may never have heard of Toonami Jetstream.
It should be interesting to see how, when, or if the full Eyeshield 21 anime series eventually becomes available here in the States. The series' popularity in Japan, its large number of episodes, and the generally poor performance of sports anime in the U.S. market have so far all worked against its release by a U.S. anime company -- the first two factors driving the licensing cost up, with the third predicting only mediocre North American sales -- and so it is possible that the Eyeshield 21 U.S. Project could be construed as sort of an end run around the current players in the American market. Perhaps the members of Eyeshield 21 U.S. Project, all of whom are involved in the production of the anime, hope that they can create enough demand for the property to interest a U.S. company in distributing it here, or perhaps they will utilize some new form of distribution.
The eventual fate of the Eyeshield 21 anime in the U.S. remains unclear, but Viz Media's manga series should definitely be helped when the first episodes of the anime become available in the fall and anime fans will have a chance to see some episodes of one of the most popular contemporary sports anime series in Japan.