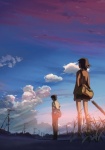 ADV Films has confirmed to ICv2 the news first reported in Anime Insider that ADV has acquired the rights to Makoto Shinkai's 5cm Per Second: A Chain of Short Stories About Their Distance, which debuted in Japan on March 3, 2007. ADV's Chris Oarr told ICv2 that ADV does plan to release 5cm Per Second theatrically before the DVD is released in December. Certainly 5cm Per Second did well with hardcore anime fans in Japan, who lined up hours before the first showing of the film at a theater in Shibuya.
Director Shinkai, who leapt to prominence with his home-made (on his Apple computer) OVA, Voices of a Distant Star in 2002, has developed a devoted following in both Japan and the U.S. thanks to a lyrical and poetic visual style that perfectly complements his overriding themes of isolation and loneliness -- themes that clearly resonate with otaku.
ADV has released both Voices of a Distant Star and Shinkai's feature length follow-up, The Place Promised In Our Early Days, both of which can be classified as poetic science fiction.
In spite of its scientific sounding title, 5cm Per Second is a contemporary relationship story, or rather three of them -- separate vignettes from the life of Takaki Tohno. In the first story, 'A Tale of Cherry Blossoms,' which takes place during Takaki's grade school years, he forms a close relationship with Akari Shinohara, only to have her move away with her family when he enters junior high. The second story 'Cosmonaut' is set at Tanegashima, the seat of Japan's Space Agency during Takaki's high school years, when a shy classmate has a crush on him, but refuses to act on it. The third story '5cm Per Second' takes place in the present during Takaki's adult years and ends with a fleeting encounter with a woman from his past.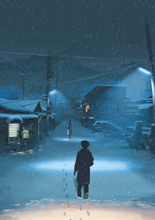 Although in 5cm Per Second (as in The Place Promised In Our Early Days), Shinkai worked with a full team of animators rather than by himself, the look of the film remains intensely personal thanks to his striking compositions and painterly use of light. Although he may not have reached the stratospheric level of Hayao Miyazaki yet, Shinkai, like Satoshi Kon, is a true anime auteur with an easily recognized visual style and recurrent themes that make his films truly distinctive.