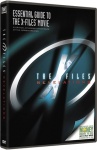 On July 8th Fox Home Video will release the two-disc X-Files Revelations DVD (MSRP $22.98), a collection of eight episodes hand-picked by series creator Chris Carter, who provides an on-screen introduction to each episode in which he explains why the episode was chosen and how it relates to the second X-Files feature film, which opens July 25th.
The episodes, which have all been released on previous X-Files season sets, span seasons 1-6 and include the series "Pilot," "Beyond the Sea," "The Host," "Clyde Bruckman's Final Repose," "Memento Mori," "The Post-Modern Prometheus," "Bad Blood," and "Milagro."
Extras include a Hollywood Money Movie Ticket worth $8.50 ($10 in Canada) when attending a showing of X-Files 2, and a 38-minute feature depicting the appearance of David Duchovny and Gillian Anderson along with Chris Carter and X-Files producer Frank Spotnitz at an X-Files panel at WonderCon 2008.