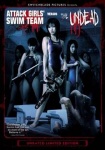 ADV's new business model involves localizing, packaging, and distributing anime from Sentai Filmworks and live action films from Switchblade pictures (see "ADV's Chris Oarr on Its Switchblade Releases"). Having already announced its anime releases (see "Clannad Leads ADV Announcements"), ADV has now outlined an aggressive release schedule for 12 Japanese live action genre films, which will be released at a rate of one-per-week starting on November 11th.
The Switchblade releases include 3 classic Asian Shock horror titles:
Cruel Restaurant ($29.99, Dec. 2nd)
Attack Girls Swim Team vs. the Undead ($29.99, Dec. 9th)
Killer Bees ($19.98, Jan. 27th)
Five action titles:
Twin Blades of the Ninja ($19.98, Nov. 11th)
Ninjaken—The Naked Sword ($19.98, Nov. 18th)
Female Prisoner Sigma ($19.98, Nov. 25th)
Death Row Girls ($19.98, Dec. 16th)
Chain Gang Girls (19.98, Dec. 23rd)
Four comedies:
Gluttonous ($19.98, Jan. 6th)
Maid's Secret ($24.98, Jan. 13th)
Maid's Secret—Welcome Home ($24.98, Jan. 20th)
New Manager of the Sumo Club ($19.98, Feb. 17th)
Particularly noteworthy for fans of "Asian Shock Cinema" are the two horror films directed by Koji Kawano, Attack Girls Swim Team vs. the Undead and Cruel Restaurant. Though these titles are unrated, they are definitely for mature viewers only due to healthy helpings of graphic violence, nudity, gore, sexual violence and lots and lots of blood.
Attack Girls Swim Team vs. the Undead in particular with its busty heroines wielding chainsaws and doing battle with legions of zombies is hardly designed for all viewers, but is clearly calculated to provide horror film fans with the kind of "fan service" that they want. As the uber-fans on the Asian Cult Cinema Website put it in describing the work of director Kawano, "It's been a long time since we've seen a director so willing to please his audience…This incredible gem has everything an Asian Cult fan could want."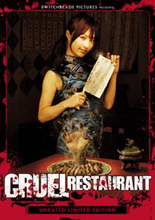 Cruel Restaurant, which stars superstar model Mihiro, is an equally bloody little saga set in an eatery where the "pot stickers" have a uniquely compelling flavor—just don't inquire too closely about where they get the meat. Just as in Attack Girls Swim Team, director Kawano does spare the graphic violence or nudity in this saga, which will have the squeamish eating at home for months.