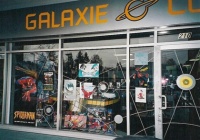 Galaxie Comics & Novels in Coquitlam, British Columbia is a 1,000 square foot store specializing in comics, anime and manga, and movie and TV merchandise.

It created a large Star Wars display mixing products from Attack of the Clones with older ones in a 'mountain' of products.

While 'civilian' traffic hadn't started yet, the hard-core fans have reacted well.
The Store
Galaxie Comics & Novels, in Coquitlam (British Columbia), is a 1,000 sq. ft. specialty retail store ideally located behind a much larger mega shopping mall.

We specialize in carrying mainstream comic books from Marvel, DC, Dark Horse and Image.

Due to demographic demands, we have grown our anime and manga sections and now devote a whole area to products from Viz, TokyoPop, Pioneer, BanDai, Toy.com, Kaiyodo and many more.

We carry properties from Sailor Moon, Neon Genesis Evangelion, Dragon Ball, Chobits and Cowboy Bebop (as well as the latest fades).

To complement our pop-culture foray, we carry Diamond Select and movie-related merchandise like posters, T-shirts, trading cards, toys and collectibles.
The Displays
Because the store manager's favorite Star Wars character is Boba Fett, we decided to create a Star Wars display towards the back of the store. The life-sized Boba Fett standee is to catch the attention of shoppers and draw them towards the back where we placed a 'mountain' of Star Wars products. The sales idea this time is to mix older Star Wars merchandise the store had with the newer Episode II items. So, we placed older Boba fett toys next to Jango Fett, older Episode I destroyer droids with Episode II destroyer droids, older Star Wars trades with the latest comics. We were pleasantly surprised when customers and their kids even requested to pose and take photographs next to Boba Fett. Yipee! Happy customers equals more sales!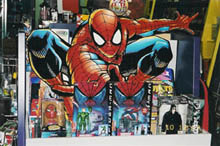 The concept of the Spider-Man display is to take into account the mega-advertised movie launch on May 3, 2002. Because there was rampant indiscriminate usage of the movie teaser posters and imagery (i.e. at bus-stops, shopping malls, bill-boards etc.), we decided that for greater visual impact and historical reasons, we had to be different. We therefore used unique Spider-Man banners and images that the store had accumulated in its past. Selective placement of long banners, window clings and products told the public that we carried 'Spidey' items way before the movie was filmed. Once inside, we created a large 'center-piece' display using a Spider-Man cutout that literally jumped out at the viewer. Around it we placed Spider-Man movie related products that sells.
Results
Team 2 has been awaiting a surge in Star Wars merchandise, which has yet to happen.

After April 23, 2002, there were more visits to the store for Star Wars enquiries.

However, we know that people have been going to the larger departmental stores to buy Star Wars stuff because they can get it much cheaper there (and there isn't the huge rush or demand felt yet).

So far, customers that like our display are the regular Star Wars fans who have been buying the Star Wars comics and Star Wars merchandise year in and year out.

They appreciate our loyalty to the Star Wars legacy and we are glad.

Here's hoping that the movie's release can generate the 'Force'.
Click here to see runner up

-

- All About Books & Comics in Pheonix Arizona.
Click here to see runner up
-- Brave New World in Newhall, California.
Click here to see the First Prize Winner--Silver Snail in Toronto, Ontario.
Click here to see the Second Prize Winner -- Bookery Fantasy in Fairborn, Ohio.
Click here to see the Third Prize Winner--Wade's Comic Madness in Levittown, Pennsylvania.
Once again the staff here at ICv2 would like to thank all the retailers who participated in our contest, and our sponsors -- Topps, Wiz Kids, and Diamond, and prize sponsors Dark Horse and Ballantine Books.
This display contest is part of our big May Movie Moolah promotion. We're currently in May Movie Moolah Episode II. Click here to read all about it.