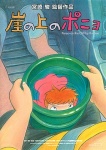 The Walt Disney Company has announced that Hayao Miyazaki's latest film, Ponyo on a Cliff By the Sea, will debut in theaters in North America on August 14th. Pixar's John Lasseter, who performed the same duties on Spirited Away and Howl's Moving Castle, is executive producing the English dub with Melissa Mathison (E.T.) adapting the Japanese screenplay. The sterling vocal cast includes Noah Cyrus as Ponyo, the eager young goldfish who wants to become a human, as well as Cate Blanchett, Matt Damon, Tina Fey, Cloris Leachman, Liam Neeson, Betty White, Frankie Jonas, and Lily Tomlin.
The film had great box office success in Japan (see 'Ponyo Hits Another Milestone"), and has garnered very positive reviews from its festival screening (see "Reviewers Love Ponyo").
The August date is late in the summer movie season, but was necessary to provide some breathing room between major animated releases. Dreamworks' Monster & Aliens opens next week and will dominate the early spring, while Pixar's Up bows on the Memorial Day weekend and will do most of its business in June. Ice Age: Dawn of the Dinosaurs debuts on July 1st, while Disney's G-Force opens wide on July 24th, leaving the mid-August date Ponyo's only viable summer option. Live action competition for Ponyo's target family audience will come from G.I. Joe: Rise of the Cobra, which bows on August 7th, and to some degree from Summit Entertainment's Bandslam, a High School Musical-like teen battle of the bands movie that also opens on August 14th and should attract a sizable audience of tween girls.
It should be interesting to see how many screens Disney can obtain for Ponyo. The studio was able to get Miyazaki's Spirited Away, which earned $10 million in the U.S., on 714 screens in September of 2002, but only managed 202 screens for Miyazaki's subsequent release Howl's Moving Castle, which earned $4.7 million in 2005.