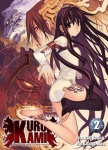 At Otakon Bandai Entertainment made several announcements including the fact that Kurokami-the Animation will be released on both standard DVD and in the high definition Blu-ray format. Kurokami, which is based on a popular manga series published here as Black God by Yen Press (see "Kurokami Gets Simultaneous Release"), will be Bandai's first TV anime Blu-ray release.
Along with Fathom Events, Bandai is also sponsoring a theatrical showing of the Eureka Seven movie, Eureka Seven good night, sleep tight, young lovers, in 432 theaters for one night only on September 24th. Tickets will go on sale starting on August 21st at the Fathom Events Website.
Bandai also clarified some details concerning its release of Kannagi (see "Bandai Tries New Anime Business Model"). The Kannagi (Crazy Shrine Maidens) DVD will be subtitled only. Bandai is not releasing a dubbed version of the anime. Also when Bandai does make the title available at mass market retailers, it will have a higher, not a lower suggested retail price.