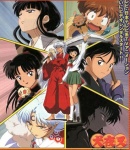 Reports from numerous Inuyasha fansites, both in the U.S. and Japan indicate that the Inuyasha anime series will resume this fall with Inuyasha: Konketsuhen (Inuyasha: The Final Chapters) airing on Japan's YTV network starting in October. The original 167-episode Inuyasha anime series, which ran from 2000 to 2004 in Japan, covers events in Rumiko Takahashi's Inuyasha manga series up through the middle of Volume #36.
The Inuyasha manga concluded in Japan last June with Volume #56 (see "Inuyasha Manga Ending"), so the Final Chapters anime will likely attempt to adapt the final 20 plus volumes of the manga. If the new series covers the manga narrative at the same rate as the original, it would indicate that the Final Chapters anime would require more than 90 episodes to tell the entire story. Reports indicate that the original voice cast is returning for the new series.
The final episodes of the original Inuyasha anime series premiered on the Cartoon Network's Adult Swim in October of 2006. Since then the Cartoon Network has rerun the entire 167-episode series, which is currently airing between 5 and 6am (ET, PT) on weekdays.
Viz Media, which has released both Inuyasha manga and anime series here in the States, just announced that it would be making the first 32 episodes of Inuyasha (with English subtitles) available on Hulu starting today along with the first 11 episodes of Nana and the first 12 episodes of Honey & Clover.