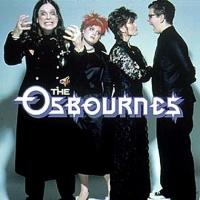 ICv2 has learned that Inkworks, the Raleigh, North Carolina-based trading card company that just scored a major success with a card series based on the
Scooby-Doo
film, has acquired the rights to produce a set of trading cards based on the popular MTV reality series,
The Osbournes
.
The Inkworks
Osbournes Trading Cards
should be out this fall in plenty of time to capitalize on the second season of the Osbournes on MTV.
Arguably the most surprising and influential TV series of the past season on American television, The Osbournes featured a candid and comic look at the home life of the aging rock star Ozzy Osbourne. Osbourne, who is one of the founding fathers of heavy metal rock, comes off as an affable, though somewhat burned-out, regular bloke, who spends almost as much time around the house as Ozzie Nelson did, though instead of a spotless sunlit suburban tract house, the Osbournes live in a large, canine-befouled mansion with gothic overtones and teenage children with multi-hued hair. It's hard to describe the ineffable charm of The Osbournes series, but somehow the show manages to capture the zeitgeist of our era perfectly, and it has catapulted Ozzie from reclusive has-been to the ubiquitous guest and subject of conversation on every talk show on television.
In addition to The Osbournes cards, Inkworks will also produce a series of cards for Men in Black II with a piece of one of those black suits in every box and autographs in 75% of the boxes. This fall Inkworks is also planning a 'Classic Scooby-Doo' series of cards, which will feature art from the original Scooby Doo cartoon series.